| | |
| --- | --- |
| Search Engine Optimization - Introduction | |


Search engine optimization is an extremely important and cost-effective way of driving buyers to your listings. Learn how you can increase the chances of showing up in the various search engines.

HOW SEARCH ENGINES WORK

The major search engines use a variety of information to index and rank web pages so they appear when keywords or keyword phrases are searched. Below are some of the most important considerations:

Content
Links & Link Popularity
URL Structures
Meta Tags
Image ALT Tags
Content


Well-written content is one of the most important ways to convey relevancy of a page to search engines. The more valuable your content is to users, the more valuable your content is to the search engines.
Target the right keywords and keyword phrases
Use keywords frequently throughout content without spamming. It's important that your content reads naturally to others.
Do not duplicate content
Include keywords at the top and bottom of your content
Use fonts and formatting to emphasize selected words and avoid invisible copy. H1, H2 and H3 tags are great ways to achieve this.
Links & Link Popularity


Hyperlink important keywords in your content. Avoid hyperlinking generic or obscure phrases.

CORRECT: Find great deals on computers!
INCORRECT: Find great deals on computers!

CORRECT: Shop for Nike sneakers on eBay.
INCORRECT: Shop for Nike sneakers on eBay.

Where possible, be sure to link to your own pages and promote external linking (e.g., link from your own site, or have others link to your store where appropriate). You can also encourage others to bookmark your pages and come back to you for future shopping.


URL Structures


A page's URL is critical for search engine optimization. Include keywords in your URL strings, and place the most important keywords at the beginning of the URL.

EXAMPLES:
Apple PowerBook: https://www.apple.com/powerbook
eBay Laptops: https://buy.ebay.com/laptops


Meta Tags


Provide page titles, meta descriptions and meta keywords for each web page and consistently use your keywords across all these levers.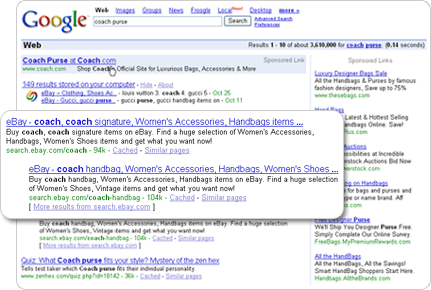 Page Title: The page title is placed at the top of the web page. If the page is indexed, the page title will appear first for your listing in the search engine's search results.
Meta Description: The meta description is 20-30 words that describes what the page is about, and is presented below the page title in search engines' search results.
Meta Keywords: This helps search engines know what keywords to associate with your page. Provide 3-5 keywords that are directly relevant to the page you are optimizing. Note that meta keywords can only be seen in the source code of a page.
<HTML>
<HEAD>
<TITLE>Page Title Goes Here</TITLE>
<META name="description" content="Meta Description Tag Goes Here">
<META name="keywords" content="Meta Keywords Tag Goes Here">
</HEAD>
<BODY>
Other code here
</BODY>
</HTML>



Image ALT Tags


An alt tag is text associated with images that is viewable by crawlers. Alt tags should be relevant to the image and content, and include your most important keywords. Also try saving images with keywords in the filenames.

<img src="apple/powerbook-123.jpg" width="100" height="78" ALT="Find an Apple Powerbook G4 for school or work">

You can also include an ALT tag when your image is a link:

<a href="http://picturegallery.com/apple/powerbook.htm">
<img src="apple/powerbook-123.jpg" width="100" height="78" ALT="Find an Apple Powerbook G4 for school or work"></a>